We were approached by Afribold Capital to redesign their company website in order to increase the company's reach and strengthen brand continuity online and offline.
Since the company had branched into new creative fields and completed new projects over the years, they required a web refresh as well as a more comprehensive website to promote their range of services and to showcase their impressive portfolio working with big names such as MTN.
We created an immersive visual experience that showcases the essence of their brand, including brand colors, an emphasis on their mission to tell stories unique to Africa through the imagery and pictures, and a general sense of the company's creative nature through the design and graphics.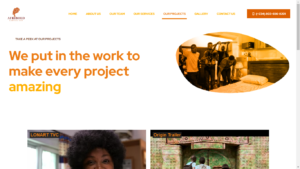 From design to brand representation and efficient functionality, we ensured that the Afribold website was completely satisfactory, whilst also factoring a highly user friendly/fast experience for users. We streamlined the company's image by building a website custom tailored to their needs.
We are so glad to work with and have a continuous working relationship with such an amazing organization and are able to call them associates.